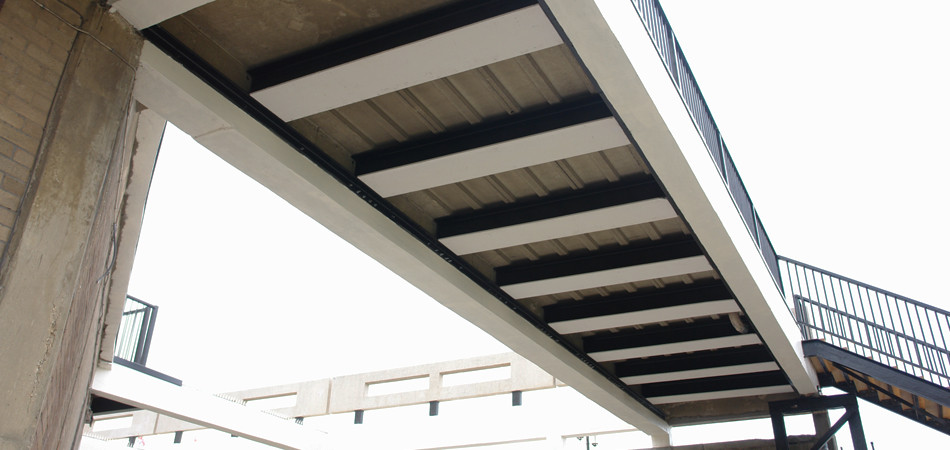 JBSR undertook extensive concrete removal and subsequant repairs to the public deck area within the heavily occupied area of Worthing.
Location: Worthing, BN11
The promenade location produced a requirement for materials which were suitable for the harsh marine environment and exposure to both the elements and chloride attack. JBSR took early involvement with this scheme allowing us to develop the proposed specification and working practices to offer added value to the client and reductions in disruption to members of the public. As part of this specification development process Fosroc were consulted to ensure that the correct cementitious repair mortars were utilised to achieve the longevity of repair required by the client in this aggressive and challenging environment. The promenade location directly adjacent the sea front also required additional consideration due to the proximity of the project to the main parade, and therefore members of the public. JBSR introduced a revised access strategy allowing us to successfully demolish part of the deck without the need of street closures and bus stop relocations as originally planned. Whilst surrounded by businesses and residential dwellings, by liaising with the neighbours and informing them of the periods in which noisy works would be undertaken JBSR were able to successfully undertake the works without encountering any complaints for the duration.
The scope of the works for this project are:
Full segregation of the works areas with pedestrian diversion setup and maintained for the duration of the works
Supply and erection of crash deck system directly below the demolition area to allow safe access to works area and maintain access to the service road below
Identification, setting out and subsequent demolition of a section of the defective deck.
Visual and hammer tap survey to the remaining concrete beams to identify areas of concrete requiring repair.
Prepare, primer and undertake concrete repairs to the remaining beams and cut edge sections of the deck area.
Installation of supporting steel members inclusive of onsite alterations to facilitate design changes.
Installation of bespoke fabricated handrail system utilising proprietary decorations to resist the long-term affects of the projects location to the marine environment.
Strip up and renewal of the access stairway treads facilitating access to the deck area
Asphalt repairs to various areas making good cut edges and perished section of the existing asphalt coverings.
Installation of specialist mastic sealants to construction joints across the project providing waterproof and movement tolerant seals with suitable properties to provide resistance to the harsh environment in which they were installed.