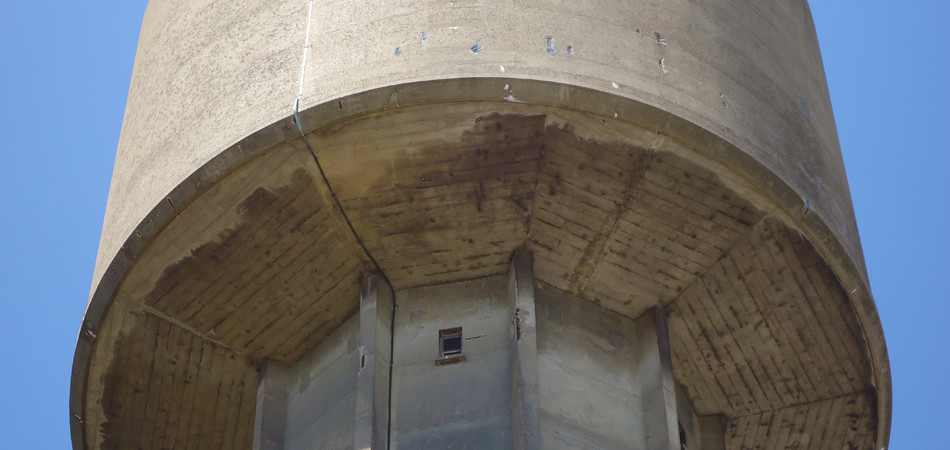 JBSR undertook extensive concrete repair and protection works to this 40m high water tower located in Ashford, Kent
Location: Willesborough Road, Ashford, TN24 0LT
JBSR secured the water tower project under competitive tender for food producer Premier foods. Having discussed the works, specification and working practice JBSR designed a traffic management plan and associated documents to accommodate the complexities and regulations of the surrounding production site before setting up and commencing works on site.
Due to the complexity of the tower design and requirement to access all faces of the structure JBSR engaged the services of a local scaffolding contractor with whom the design element of the scaffolding was discussed and agreed.
The full scope of works for this project was as follows:
Provision of fixed tied design scaffolding to facilitate access to the main column and bowl facade
Surface preparation by means of jet wash cleaning to facilitate the conditional survey and application of protective coatings
Visual and hammer tap survey of all concrete elements
Breakout of all identified defective areas of concrete in addition to the location for the anodic protection
Installation of anodic protection to give additional protection to the in-situ steel reinforcement against the effects of active corrosion
Completion of the concrete repairs to restore structural integrity to the concrete elements of the tower structure
Application anti-carbonation protective coatings, offering protection to all concrete elements
Internal electrical and lighting upgrades to the stairwell areas inline with the client requirements.